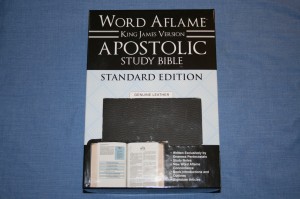 It has a nice layout, very thick and opaque paper, and a large print. The section-headings in the text are awesome. It looks like the Schuyler Quentel but with blue chapter numbers and dividing line instead of red. It could not look better in my opinion. I will use it for the text alone. Since there is a little bit of writing space at the end of most books, I'm treating it like a wide-margin Bible and I'm making some additions of my own.
It only has 12 articles but they are well-written. Some of the commentary could be better. It doesn't have cross references but the notes do contain good references. The concordance has entries such as 'One God' and 'One Lord', serving as a topical index.
It's not everything I wanted in a Bible, but with the nice paper and print, the Apostolic Study Bible serves as a good start to a teaching, preaching, apologetics, and witnessing Bible. It only needs a few additions and some of these can be added. These additions even serve as Bible study.
Each book starts on a new page, so there is some room to write your own notes for most of the books. I will be adding a lot of notes. I will add the reference number under the notes and give the page number where I've written the note. Notes can come from books written by David Bernard, Daniel Segraves, etc. Rather than writing it word for word, just write the main point. For example, David Bernard in The Oneness of God writes a great note about 1 John 3:1-5. I will write a condensed version of that note on the blank half-page at the end of 1 John.
My ribbon is too short so I'm replacing it with four ribbons- each a different color (just like the Schuyler Westminster) (UPDATE- I added 5 thick ribbons). Take an index card, glue some thick ribbons to it, shove the card into the spine of the Bible, trim the ribbons to about 2.5 inches past the pages of the Bible and hit the ribbons with fray check. Just be careful that you don't touch the paper or cover with it.
I also plan to add a topical list of apostolic doctrines including:
Godhead
Salvation
Holiness
Gifts of the Spirit
Prophecy
And a few others. This will be a table that shows the key verses to go to for these topics.
Another addition will be a chain reference. It will tie with the topical list. I'm even considering adding cross references within the text or in the margins to make it more like a standard study Bible. I might just do key verses instead of all of them.
Since I like to color-code, I will place my color list with the list of topics. It will be the same topics anyway and this will save some room. All of these will go on the five thick pages in the front.
I might also add some Hebrew and Greek definitions that I want to cover in greater detail.
If there is still some room left I might also add a few outlines for Bible studies. These will go on the five thick pages in the back.
I also want to add Bible studies throughout the Bible. These will be chain referenced in the margins and include topics that apply to me such as men's studies.
This is my first round of Apostolic Study Bible hacks. I plan on using this until I wear it out, then I'll do a rebind in a nice calfskin or goatskin. That will be much later down the road. the genuine leather is thin and stiff. Maybe I'll do it sooner than later.