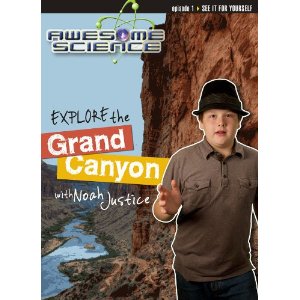 Awesome Science is a video series from Master Books that give lots of good information in an easy to understand manner in just 30 minutes per episode. The science is easy to follow, but not shallow. Even though the host is a young boy, the information will appeal to children and adults alike. The first video in the series covers The Grand Canyon.
I was wondering how another video on the Grand Canyon could provide any more information than what has already been done- especially in just 30 minutes. This video on the Grand Canyon is by far the best I've seen. There is more information in this 30-minute video than in other videos that top an hour or more. Also, I've seen many videos on the Grand Canyon and there was information in this one that I have never heard before.
There is also a 34 page study guide available with lots of study activities including fill-in-the-blanks (from a list of choices), discussion questions, true/false, scientific summaries and examples, bonus activities, and a conclusion.
I highly recommend Awesome Science The Grand Canyon DVD with Study Guide for both children and adults. The Awesome Science DVD series is one of my favorite resources for Creation and science information.
I received this DVD free for review from New Leaf Publishing. I was not required to give a positive review- only an honest review. My opinion is my own.