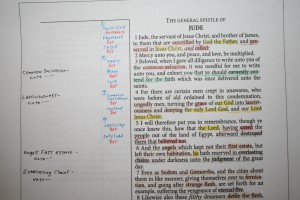 A wide margin Bible is one of the best Bibles available for personal Bible study. Wide margin Bibles do not contain someone else's notes. Instead, they give you the writing-room you need to make your own notes, thus creating your own Study Bible. One problem I have seen is that there is not a lot of information about how to use them. Many people (myself included) have bought a wide margin Bible in order to create a personal Study Bible, only to find they are not sure what to include. "OK. I have these nice margins. Now what?"
There are many ways we can use those nice margins in a wide margin Bible. It's best to use a systematic approach and write notes that are useful, comprehensible, and succinct. Your notes should enhance your Bible study. As far as what to include… there are many options and methods of using those wide margins. The following is a short list of some of the most popular items to place in your wide margin Bible.
Notes
Notes can include commentary by other authors, charts, graphs, facts, translation notes, references, etc. If the notes are something that will be referenced by many verses you might consider writing the note in the notepaper in the back and write a reference to it everywhere you need to.
Commentary
Writing your own commentary will help you to remember the meaning of a passage. For difficult passages it is a good idea to have something in the margin that can explain the key points. This is especially helpful for teaching or witnessing. Margin space is limited, so there's not much room for complete commentary.
Word Studies
Word studies include both the original languages and translation notes. I will make a mark over the word in the text, and then make the same mark in the margin. Then, I write my notes which are now keyed to the text.
Sometimes a word could have been translated another way. If it is a word that is difficult to understand, or if I find that a different word clarifies the text, I will write other words that could have been used.
For the original languages, I simply write the definition from a dictionary (Strongs, etc) of important words in the text.
References
Most wide margin Bibles include references, but some do not. If your Bible includes references, you still might want to add references that are not included. If yours does not include references, you have the opportunity to own a custom reference Bible. The problem is you have to add them yourself. That's a lot of work, but when you're finished your Bible will be more personal. A good reference Bible can be used as a pattern to help in choosing which references to include. You can also get references from Bible software such as Libronix.
Topical Chain
I like topical chain references. They allow you to work your way through the Bible on a specific topic. It's best to know ahead of time which references you want to include in the chains. There are many resources available for topical lists.
One problem is the fear of leaving out verses. I try to get as many verses on a topic as I can before I start. Software such as Libronix has topical lists that can be used. Other sources include Thompson Chain Reference and Naves Topical Study Bible. Writing your own topical chain gives you the advantage in deciding what topics to include and how detailed to break up the topic into subtopics.
Here is a good topical list: UPCI Biblical Subject Index
Marking
It's best to not use pencils, pens, or highlighters that can leave indentions or bleed-through. I recommend Pigma Micron markers and Prismacolor coloring pencils. Pigma Micron markers come in many colors and sizes. I use 005 for my marginal notes and 05 for underlining. Prismacolor pencils are high-quality pencils that do not indent the page, smear onto the opposing page, or bleed-through. For more information on marking your Bible see my article about my new Bible marking method.
Hints and tips
One of my favorite tricks is to borrow ideas from other Study Bibles. I occasionally go through all of my Study Bibles and see what I can pull from them. For example, my Thompson Chain Reference has a few added features that I've pulled from a few Study Bibles. I took the topical system from the Promise Keeper's Study Bible and the Pentecostal Themes from the Life in the Spirit Study Bible. I have used both of those systems for years and I plan to add them to my Note Taker's wide margin. Features such as reading plans, book outlines, word studies, etc., can be added to the margin or extra note pages in your Bible.
Another good source is books. I have recently read several good books, I Don't Have Enough Faith to be an Atheist and The Ultimate Proof of Creation, that have information that I'd like to add to my Bible's margins.
Other good sources include pamphlets and tracts. I especially like the pamphlets that fold up to go in your Bible cover.
I don't recommend trying to copy someone else's notes completely. I also don't recommend trying to add a dictionary. Some word studies are great, but if you need a dictionary you are better off with a dictionary. It is best to write as little as possible when it comes to commentary. Also, when adding a definition, place the definition on one page, then on every other page that has the same word simply add a note to turn to the page with the definition. In this way you are not repeating the same note over and over. Don't get too technical or mechanical in your note taking.
Use a systematic manual style. Use the same abbreviation throughout the entire Bible. It is best to use common abbreviations for the books of the Bible. Use v for verse and vv for verses, etc. As a way of developing your own marking style, I recommend printing a page from the Bible (a good source for a free wide margin Bible for printing is printkjv) and work with it until you're comfortable. Then you'll feel better about writing in one of those $150 Bibles (unless you buy an Executive Series Note Takers Wide Margin from LCBP for $55- which I highly recommend).
Use a ruler for making light lines to write on. Your Bible will look better and be easier to read later.
Your note taking should be part of your Bible study- not take the place of your Bible study. Always begin with prayer and ask God to lead you. God is willing to open our understanding and give us more light.