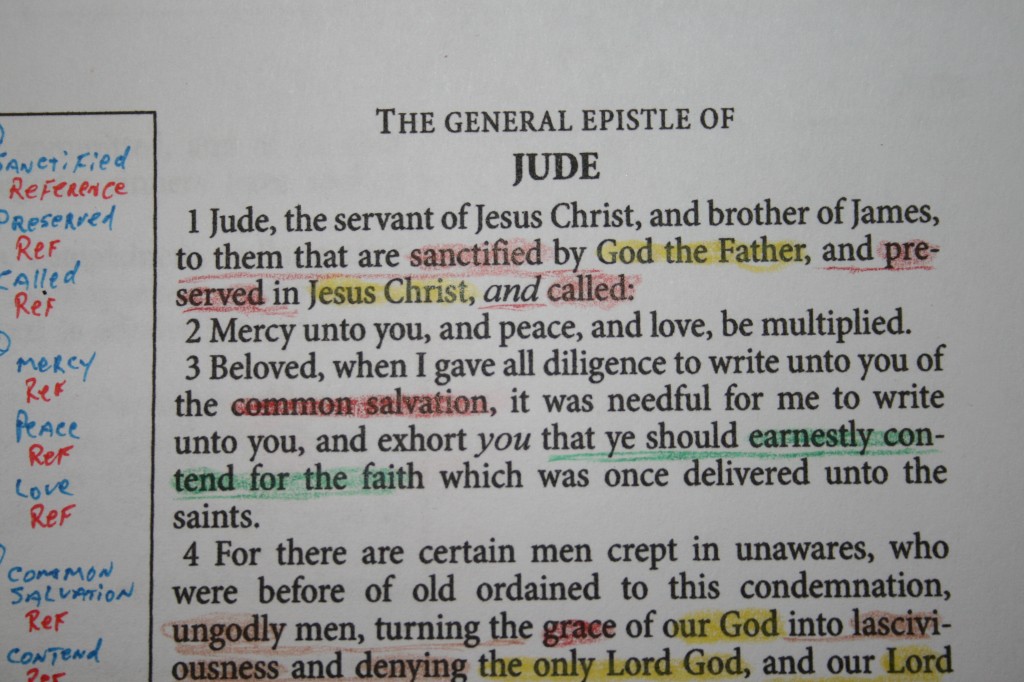 I recently developed a new marking system for my new wide margin Bible. Since I got a new Bible I wanted to develop my color code a little more to include more subjects and get a little more detailed with my marking and study. I also wanted to refine my current subjects a little. My wife also uses my color code, and she added a few subjects of her own. I wanted to add her subjects and she wanted to add my new subjects. So, we collaborated and developed this new color code. We ended up with this new color code to go with my new marking system.
We are using PrismaColor Premier Color Pencils. The color names are the actual names of the PrismaColor pencils from the 48 count pack. There are over 60 colors available to buy individually for $1.50 each from Hobby Lobby (which is probably the best way to buy pencils for Bible marking).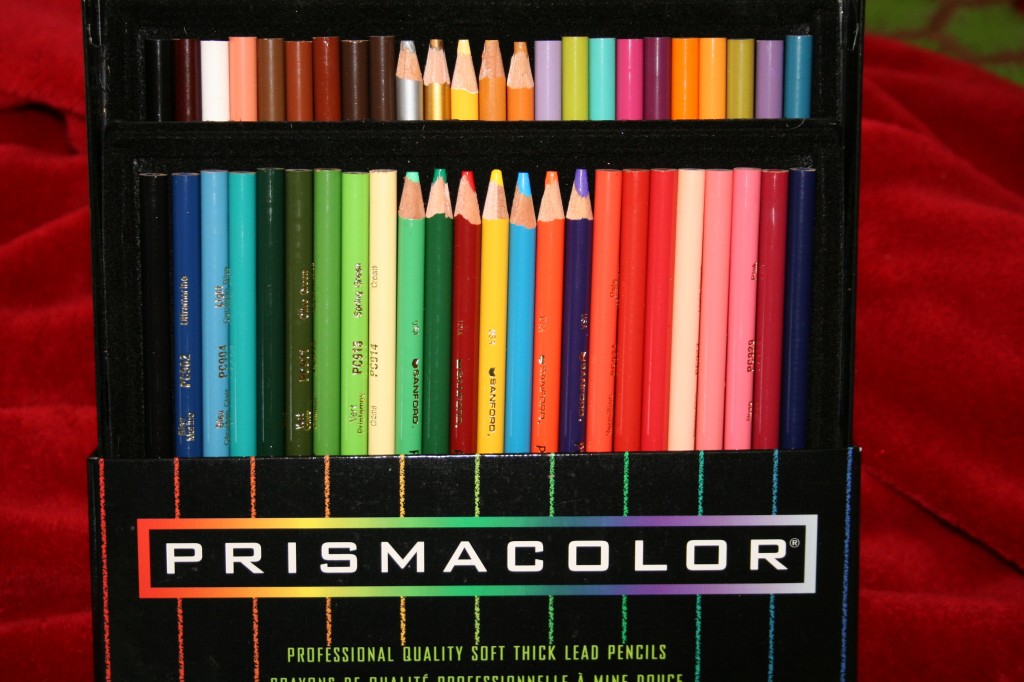 Many years ago I started with around six colors. I've added colors over the years and developed my current color code, which consists of 12 colors. Here is my latest color code, which consists of 18 colors.
Canary Yellow – Godhead
Crimson Red – Salvation
Ultramarine – Holiness
Violet – Healing
Grass Green – Defending the Faith/Study the Word
Orange – End Time Prophecy
Black – Wrath of God/Judgment
Pink – Faith
Peach – Works of the Flesh
Yellowed Orange – Creation
Burnt Ochre – Science
Lilac – Gifts of the Spirit
Light Cerulean Blue – Fruit of the Spirit
Spring Green –Miracles
Dark Brown – Archaeology/Chronology
Light Aqua – Prayer
Tuscan Red – War
Process Red – Promises of God
There are plenty more topics to mark in the scriptures, but this will be enough for now.  Other topics I would like to mark include money, music, and vocations. Not everything needs to be marked with a color, and many of these colors will not be used that often. Also, some of these topics overlap, which can make Bible marking difficult. My goal isn't to mark every verse in the Bible and it isn't to make my Bible look cluttered.
The purpose of this color code is so that my Bible study can become more involving and inductive. With my new marking system I am color-coding more verses than before, and the coding is part of my study process. This forces me to think more deeply about what is going on within each book, chapter, passage, and verse.
Some of the latest additions to my marking system are Creation, Science, Archaeology, War, and Promises of God.
Creation will cover every creative act of God.
Science will include scientific facts that the Bible proclaims. For example, the stars can't be numbered.
Archaeology is the topic with the most diversity. I will mark anything that can be used in an archaeological study. This includes names, dates, places, and events. It will answer the questions: who, where, what, and when. For example, in the book of Daniel it talks about King Nebuchadnezzar, tells who he conquered, and when. This topic can actually be broken into several topics, but for my first time marking it I will just use one color. Later if I determine that it should be broken into more topics for my own study, I will change it when I go to another Bible. In my current Bible I will use marginal notes or symbols.
I constantly find that I want to mark a verse where God is promising something to someone, so adding Promises of God will be a nice addition.
I like pointing out the wars in scripture, so marking War will be a good addition, but it will overlap with Archaeology to some degree.
My wife has marked Prayer for years. It's worked for her, so I added it to my list.
I've already started marking with this system and I have to say that I'm impressed that the colors are easy enough to tell apart.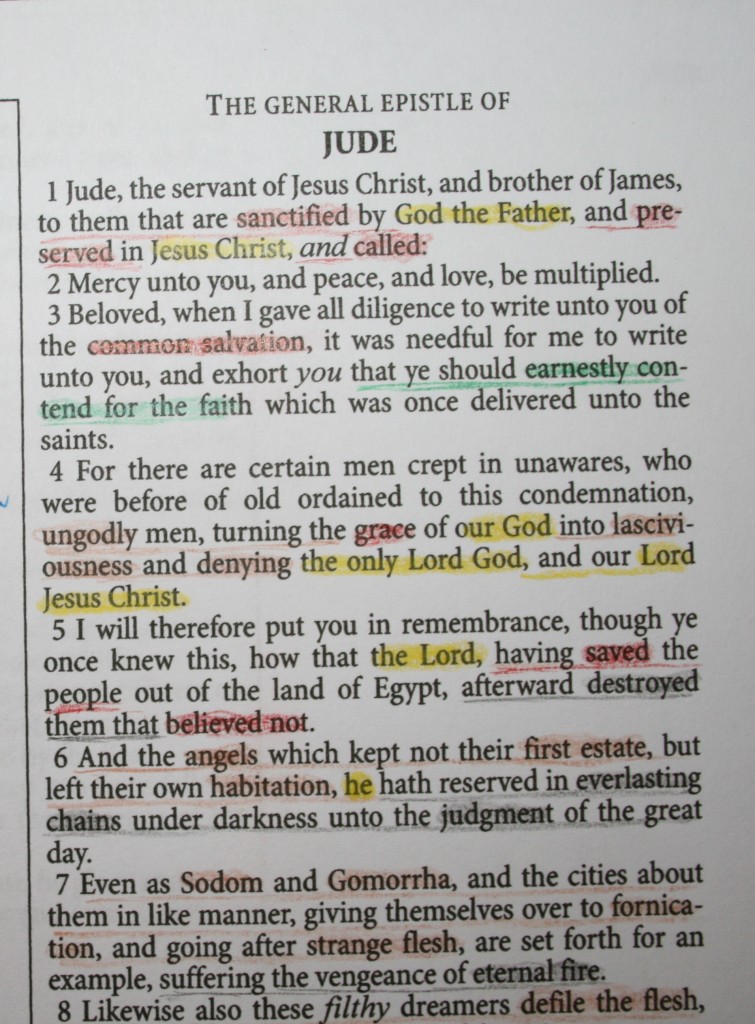 Most people only use a small handful of colors, but 18 colors really aren't too many. Color-coding is my version of inductive study. I've seen inductive study systems where people are using around 100 symbols. It's far easier for me to remember 18 colors than 100 symbols. This marking system will last for several years' worth of study, and will be a great benefit for going through the Bible and interacting with the text. The purpose of this marking system and color code is to promote good Bible study.