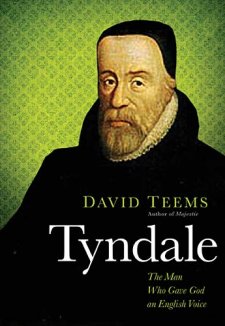 Tyndale The Man Who Gave God an English Voice is a well-written biography on the life of William Tyndale from Thomas Nelson Publishers. The main focus of the book is the trials Tyndale went through, and the high price he paid, to translate the Bible into English.
David Teems shows the impact that Tyndale had on Biblical translation and the English language. Without William Tyndale we would not have words like scapegoat, Passover, atonement, and beautiful. Tyndale's influence is seen in many Bible translations available today, particularly in the King James Version (KJV), which was an influence of the English Standard Version (ESV).
Along with the biography, there are three appendixes- 1, a timeline of the life of William Tyndale; 2, a partial list of English words that were created by Tyndale (others were credited to other authors); 3, Tyndale's letters written to John Frith while Frith was confined to the tower. There is also an extensive bibliography.
I enjoyed this book. I like history, and William Tyndale is fascinating to me. It was easy to read and follow, and kept my attention. It is filled with facts and events, and does a great job of putting you in the setting that Tyndale lived; showing his drive and what he went through to translate the Scriptures into English- and ultimate the price he paid for his work.
I recommend Tyndale The Man Who Gave God an English Voice By David Teems to anyone who is interested in biography and the history of Bible translation.
I received this book free for review from Nelson Publisher's Booksneeze program. I was not required to give a positive review- only an honest review.