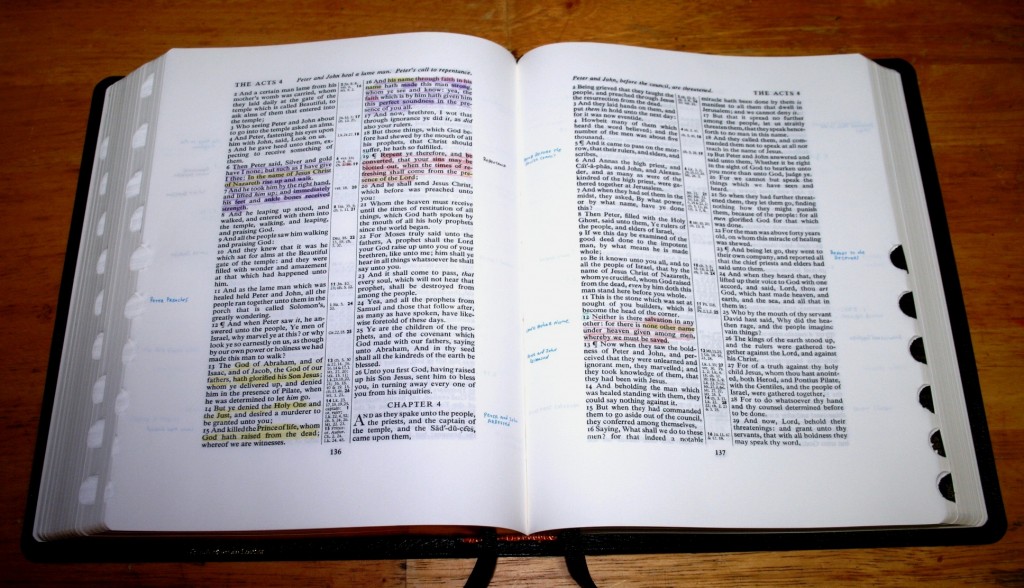 Many of us don't feel comfortable writing in our Bibles. The more expensive the Bible the harder it is to take a pen to it and start writing. Many times I write something barely legible and try to fix it only to make it worse. I used to struggle to come up with something to write, and when I did finally write something it was almost irrelevant.  Sometimes I would write an observation that was so obvious that the note didn't help me. Here are a few tips that may help you if you want to write in your Bible but don't know where to start.
Print out a Bible page and practice before writing in your Bible. You can print a page by highlighting the text from a Bible online, download a printable Bible, or print a Bible from software on your computer. This will allow you to get more comfortable with writing with the Bible text before writing in your own Bible.
Write your notes on paper first, and then transfer the note to your Bible when you're ready. This way you can work out what you want to say, and then decide if it needs to be written in your Bible. I've written many notes that I won't transfer to my next Bible. Writing your notes out on paper first helps you to see beforehand if it really needs to be in your Bible or not.
Buy a cheaper Bible and practice. You don't have to start with the most expensive Bible. I started with an inexpensive Bible and developed my own system. I learned what I liked and didn't like and bought another Bible and started over. I did this several times until I was ready to write in a better quality Bible.
Get good quality pens for marking your Bible. Marks that bleed through and smear look terrible in your Bible. I recommend pens or pencils that don't leave indentions in the paper, bleed through, fade, or smear. My favorite markers are Pigma Micron. They are archival quality and work great. My favorite pencils for coloring are PrismaColor.
It's OK not to write in your Bible- even if it's made for writing in (like a wide margin Bible).  Don't let others pressure you into writing in your Bible if you don't want to. Don't feel obligated to just because others are doing it. Use whatever system works for you. If you would rather write in a notebook than your Bible, that's perfectly fine. The key is that you take notes as you study the Bible. Work with the text and apply what you've learned- even if you don't feel comfortable writing in your Bible.