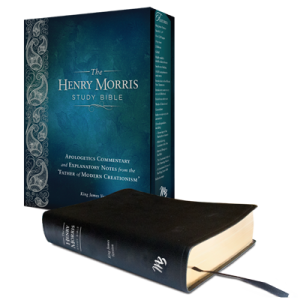 The Henry Morris Study Bible from Master Books contains Apologetics commentary from the writings of the late Henry Morris. The notes cover many topics with the primary focus of Young Earth Creation.
The basic features are:
King James Version
Sewn binding
10-point font for text and notes
2 ribbon markers
8 pages of maps
46 page concordance
In-text references
Red letter
Section headings
22 Appendixes
Study notes with Young Earth viewpoint
Index to notes
Book introductions
Presentation page
Births and adoptions page
Introduction to Old and New testaments
Pronunciation accent marks
6.75 x 9.5 x 2.5
Text
It has a 10/11 point font for both the text and the notes and is very readable. This is a red-letter edition that is about a medium shade of red. It looks nice. To help with pronunciation, there are hyphens to separate the syllables and accent marks. There are no symbols to show vowel sounds, etc. , but it still works just fine.  There are plenty of headings in the text. In the Gospels, the headings include references to parallel passages in the other Gospels.
Paper
The paper is thicker than normal Bible paper and feels more like a regular hard-cover book than a Bible. The paper has about a medium opacity and helps to make the Bible very readable.
References
The references are at the end of the verse. They are keyed to the text with the letter R. there are also translation notes that are keyed with the letter T. There are not as many references and notes as what is found in the average study Bible, but they are still pretty good.
Notes
The notes are plentiful and well-written. There is a vest amount of subjects covered including a wealth of information on Young Earth Creation and contains information from Hebrew, Greek, and scientific laws.
Appendixes
There are 22 appendixes, taking up almost 100 pages. There is a range of topics including Creation, science, miracles, the flood, the authenticity of the Biblical text, prophecy, the Godhead, and more. Some of the appendixes include references for further study.
Maps
There are 8 very pretty maps. There is no index to the maps, but some of the maps have notes that make them easier to use.
Concordance
The concordance is only 46 pages, but it is in three columns. There are 56 references for 'God', which is far more than most concordances.
Conclusion
The Henry Morris Study Bible is a good study Bible for those interested in Creation and science. I like this Bible (as those are two of my favorite topics) and expect that I will get a lot of use out of it. It is a very hefty Bible (about the size of the Archaeological Study Bible or ESV Study Bible). Like all study Bibles, I caution the readers of using someone else's notes. There are notes that I do not agree with, but I do agree with the primary topic of Creation. This Bible is a good resource for Creationists.
New Leaf Press provided this Bible free for review. I was not required to give a positive review- only an honest review.