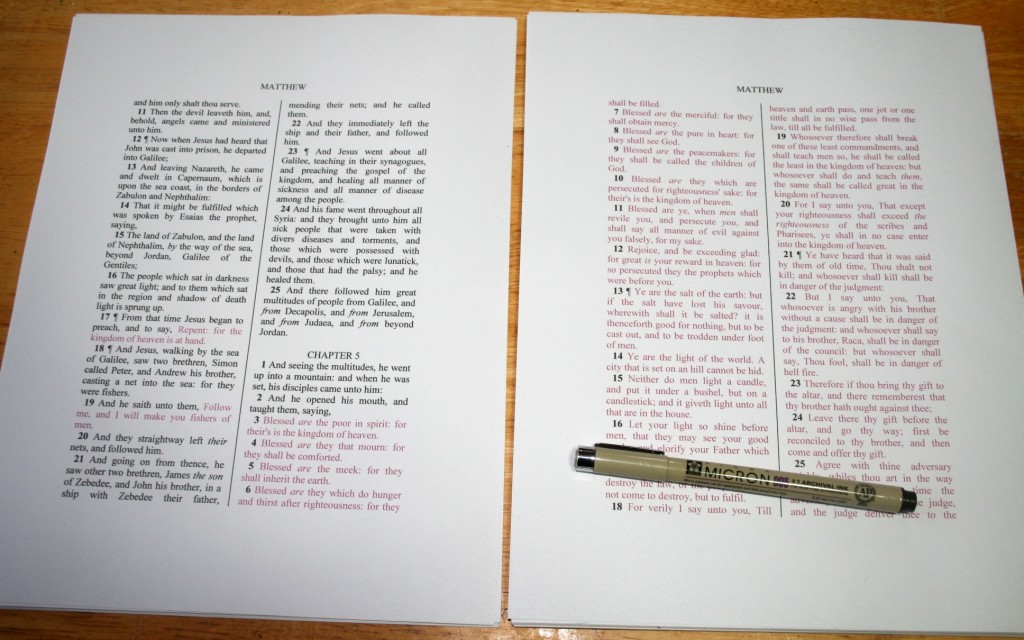 Loose-leaf Bibles provide a great way to add your own notes and pages to your Bible. There are several available from Hendrickson, so at first printing your own hardly seems worth it. It comes down to what features you want in your Bible. Printing your own give you even more advantages and options. For one, if you don't like something you've written or highlighted, simply print the page out again and start over. Loose-leaf Bibles are a nice way to make your own Study Bible- you can type your own notes and then print it out without having to write anything by hand.
Printing your own also allows you to choose your own features such as the font you want, including size and style, paragraph format, and you can print the words of Christ in red. You could even print topics in specific colors, highlight the text, underline, bold, add symbols, references, definitions, images, or anything else you can think of. A Bible printed on copy paper has far less bleed-through and the text can be much bolder, making it easier to read and mark. You might not want to carry it, but it will make an excellent study Bible.
For my loose-leaf project I will be using KJV. This has to do with copyright issues (the KJV is public domain) and it is the main translation I use. I will add my own headings in the text, make it red-letter, choose the specific font that I want, add my own references and translation notes, add Hebrew and Greek definitions, make it wide margin, have OT quotes in the NT to be in a different font-style, and possibly use blue-letter for the words of God in the OT. Some of these features will require more work than others. Since I can make more than one I've decided that I want my first one to fit in one binder, so I will be making trade-offs with font-size and margin-width, and I won't add references. Also, I will be printing on both sides of the page.
First, get a KJV text. Since the KJV is public domain it is freely available online in many places. I recommend downloading several and choose the format you like the best. If you plan to add features such as notes, references, headings, etc., and change the font style and size, the page layout of the KJV you download won't really matter because it won't look the same anyway. Here are a few choices:
http://printkjv.ifbweb.com/
http://www.jesus-is-savior.com/Bible/KJB/pce.htm
http://bibledatabase.org/bibles.html
http://www.biblicalscholarship.net/AV.htm
http://www.bibleprotector.com/
http://www.basicchristian.org/
Here's one in red-letter with some headings in the text:
http://home.comcast.net/~classichauslimited/htmlpgs/kjvbibles.html
It's easy enough to change the font and page layout using a word processor. If you choose a PDF file, simply save it as text or copy and paste into your word-processor. None of these texts come with references or notes. There are other places to get the text- especially if you don't mind copying one book or chapter at a time.
Next, format the text the way I want it. I want a large font and wide-margin. I will have to decide which is more important and make adjustments as necessary. I recommend experimenting with one book before printing the entire Bible. For my first attempt I will print only a few chapters. It might take me several tries before I like what I have. Since I'm experimenting, I ended up printing several variations. I decided on a 12-point Times Roman font. I don't like the shade of red, so I'll keep experimenting until I get something that works for me. I might even go with black-letter.
The last step will be choosing a binder and punching the holes. You can use one large binder or several smaller binders. You can even use a spiral binding if you want. I've decided to use my pages loose rather than place them in a binder- at least until I get the text exactly the way I want it.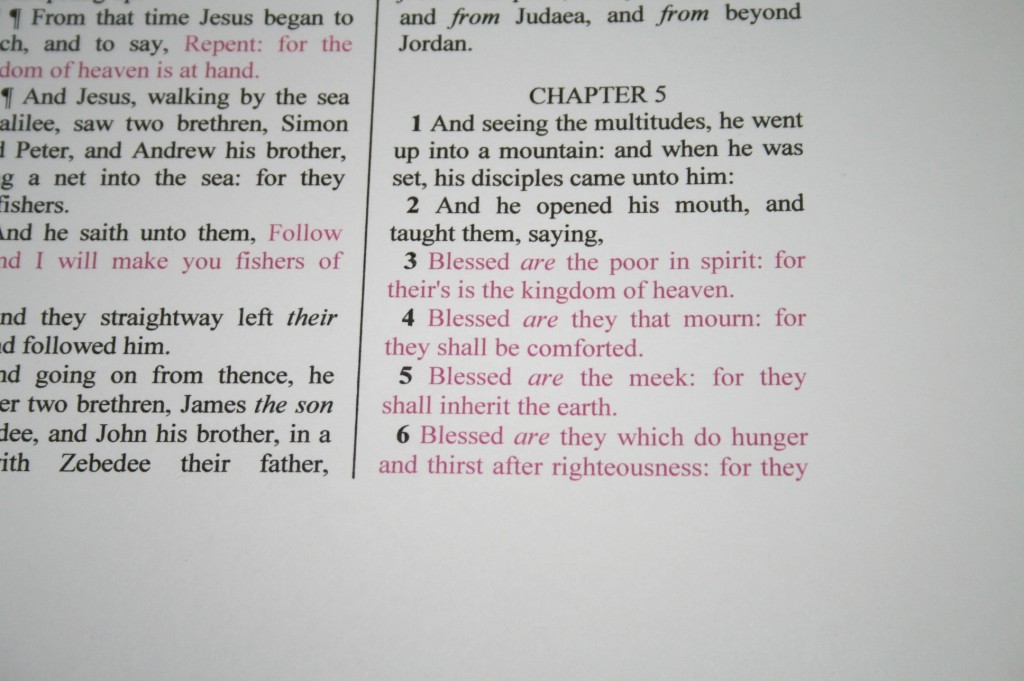 Printing your own loose-leaf Bible is a great way to study and write in your Bible. You have much thicker paper than what you can get in any Bible, you can have any size and style font you want, and the text is bold and crisp. You won't be straining to see the text and you can't read three pages deep. You can have any size margin you want, and you can interleave as many pages as you want any time you want. If you don't like what you've written or marked, print that page again and start over. You can spread out the cost by only printing a book at a time. If nothing else it can be used to help you in your Bible study by allowing you to interact with and mark your text without writing in your primary Bible.