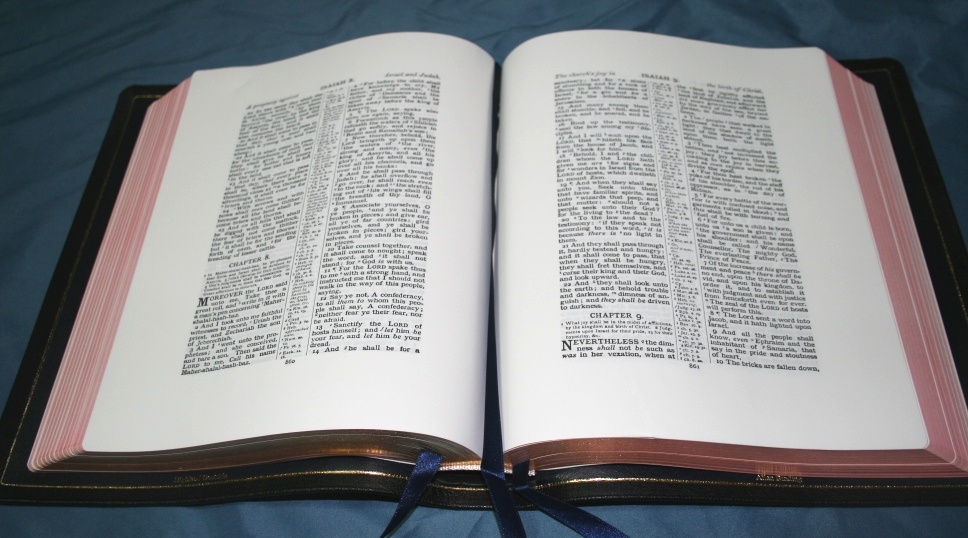 R L Allan's latest King James edition is the nice wide margin that was formerly published by Oxford. The font, layout, and margin are the same, but this wide margin has been given Allan's exquisite binding treatment, making it the most durable and flexible wide margin available in KJV.
Here are the basic features:
Highland Goatskin
Epistle Dedicatory and Allan Royal License
Center column References
Chapter summaries
3 Dark Blue Ribbon Markers
Leather Lined
Smyth sewn
Semi yapp
Gilt line inside
Red under gold page edges (art-gilt)
8/9 point Bold Clarendon type
Italics for inserted text
Same pagination as regular size Brevier Clarendon editions
8.5 x 7 x 1.5 inches
1.5 inch margin
1536 pages
15 (16 pages) full color Oxford Bible maps
26 page for notes
48 pages of lined writing paper
Coated writable India paper
Binding
The binding on this Allan is superb. It is leather-lined and includes a semi yapp. The highland goatskin is one of the softest and most flexible leathers available for a Bible and this highland goatskin is as nice as any I've seen. It includes the leather glued into the leather lining and end-pages, making this a well-build Bible that should last a lifetime. It is a sewn binding that lays flat.
Layout
I love wide margin Bibles. In my opinion, everyone should use a wide margin Bible for study- especially those in teaching/preaching roles. The margins are 1.5 inches on the sides and 1 inch top and bottom.
Paper
The paper is coated India paper, making it excellent paper for writing. It is thick and opaque, and has a slight cream tone which is easy on the eyes. It doesn't have a shine to it at all, making it excellent for reading and marking. There are 26 blank pages in the back for writing or drawing and 48 pages of lined paper for notes. The art-gilt edges have a copper tone, which I love, but it's not as dark as the Longprimer.
Text
The font is an 8-point bold Clarendon. The readability of this Bible is better than most due to the boldness of the font and the opacity of the paper.
At the beginning of every chapter there is a summary. I like having chapter summaries because they are useful for searching. They are small and I might not agree with all of them, but they are there.
At the top of each page is a short summary of that column. I like that they are included because they can be helpful when trying to find something quick.
Also at the top of the page is the name of the Book along with the chapter number that begins on that page (or is continued on that page) – with the exception of Psalms, which only has the book name.
This edition does include italics for supplied words (something that is missing in the Longprimer- another Oxford edition).
References
I'm not sure how many references there are, but there are a lot. I like to use Genesis 1:1 to check the number of references. This one has 8 references (not counting that some of them include 3 verses). The references are keyed to the text with letters. I would like to have the verse numbers in the center column to make it easier to find the reference, but that is a small matter.
The center column also includes translation notes with alternate readings. The translation notes are keyed to the text with numbers. They are physically as close to the verse as possible, but, just like the references, you will have to hunt for some of them.
Ribbons
Allan sets the standard for ribbons. This edition has three ribbons in a beautiful dark blue. They are wide and long enough to be useful because they will reach all the way to the corner of the page.
Maps
The Oxford maps are gorgeous. I'm a sucker for full-color maps and these are some of the best looking I've seen. These maps do include some 'traditions' for some locations. Also, there may be a few locations that are not as accurate because of later archaeological finds, but that is to be expected.
Concordance
This edition does not have a concordance. I would have liked a concordance, but I'm not sure how they could have gotten it in there. A concordance would have completed the study value of this Bible. Considering that I use this Bible at home where I have access to good concordances, and that most concordances in Bibles are not as useful as they should be anyway, the lack of a concordance isn't a deal-breaker for me. However, a concordance would only improve the value of this Bible. The lack of a concordance could keep me from using this as a carry Bible.
Comparison with the RL Allan Longprimer
Conclusion
The Allan Wide Margin in KJV is an exceptional Bible. I have come to really appreciate quality in a Bible- particularly the binding, paper, and font- and the Allan delivers on every point. The Oxford Clarendon Wide Margin from RL Allan and Sons is sure to be the Bible that is cherished for a lifetime of study.
Click here to buy from Bibles-Direct.com
or here to buy from EvangelicalBible.com