Bible marking is a form of inductive study and can be a great way to interact with the scriptures. Once you've marked in your Bible it starts to become a reflection of your study of God's Word. It becomes personal. Over time, it becomes a companion. It becomes a valuable study Bible. No two marked Bibles are alike. Marking in your Bible is well worth the effort, but the really hard part is knowing what to mark and how.
I love getting a new Bible and marking it all up. Well… I don't mark in every Bible. Actually, I don't recommend writing in just any Bible. I choose a Bible just for marking and a Bible just for reading. I prefer a Bible with thick paper and bold text for marking and I prefer wide margins for writing notes. Some of my favorite marking Bibles are:
Cambridge wide-margin. These are available in hard-cover, bonded leather, French Morocco, calf-split, and goatskin. They are available in KJV, NKJV, NASB, and ESV. Cambridge has the best paper, font, and features (paper to write on, etc.).
Local Church Bible Publishers Note-takers and wide-margins. These are available in genuine leather and calfskin at amazing prices (they sell at cost). They are available in KJV and are the best Bible for the money. They even have a Cameo in red-letter.
There are other great Bibles for writing in, but these are the Bibles I use the most often. I recommend printing out pages of Bible text to experiment with or try an inexpensive Bible (like the Church Publishers vinyl series) before you write in an expensive Bible.
There are several tools to mark with. I prefer color-coding according to topic. For this I use Prismacolor color pencils. They don't make indentions in the paper and they look great. Also, I like to write notes in the margins. For this I use Pigma Micron markers. They do not smear or fade and they don't have much bleed-through.
OK, I have a good marking Bible and stuff to mark with… what do I mark?
Use color to mark topics. Keep the topics general (love) or specific (God is love), but be consistent.
Make your own chain references. These are helpful for witnessing and study.
Definitions. I write Greek and Hebrew definitions in my margins.
Translation notes. These include variant readings and notes on definitions.
Explanations. Keep them brief.
Underline the key points. You can use colors for various elements or just use one color.
Marginal notes on who the context is referring to, how the passage is to be obeyed or applied, etc.
Simple outlines for teaching or preaching. This works best for blank pages in the back or wide margins.
Chain studies. These can be any type of study that you like from other resources. For example, if you did a study on the family, you could do a separate study for fathers, mothers, children, husbands, wives, etc. Each study would be numbered and chain-referenced throughout the Scriptures. For example, Fathers could be study 1. So in your margin of the first verse, write a 1, place a mark to indicate where the study starts and ends, and then write the reference for the next verse to go to. Do this for each study. Be sure to write the key information in the front of your Bible with the verse to go to first for each study. This is similar to chain-references, but chain studies are more specific and focused on specific topics and include larger passages (sometimes several chapters).
Grammatical notes. You can mark pronouns that tie together, etc.
References to outside sources.
Symbols. These are useful to indicate specific topics in very little space. For example, you could write '2nd' to indicate the topic of the second coming of Christ. Symbols are easy to develop and the symbol system can be expanded further than color-codes.
Verses to memorize. I like to circle the number of the verse with a green (my color for the Scriptures) Pigma Micron marker.
Notes from books, seminars, etc.
This list is just the tip of the iceberg, but I feel that it's a good place to start.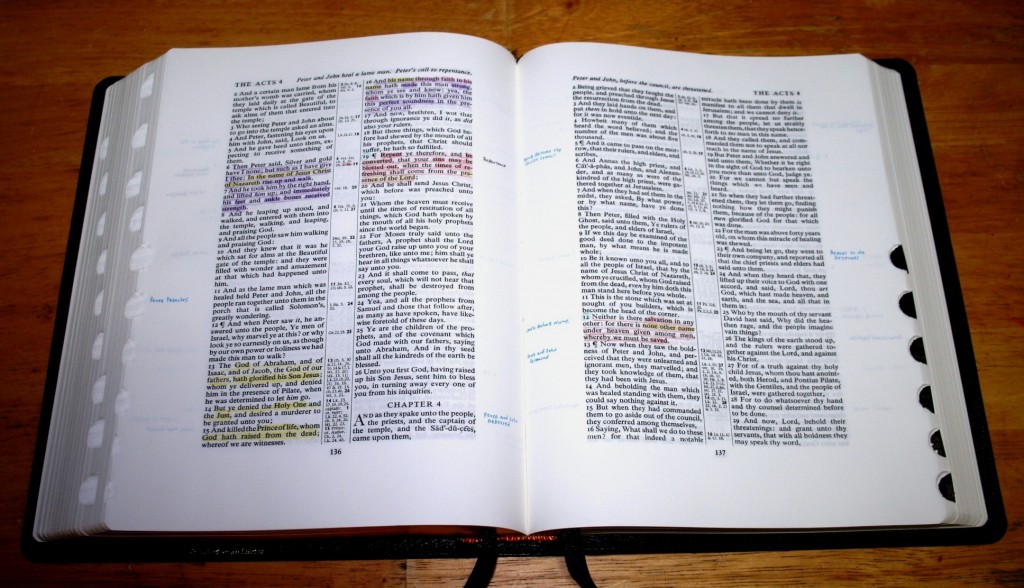 In Church, seminars, class, etc., I take notes into a notebook or journal. If there are any points that I want to place in my Bible I will transfer them later.
Don't mark everything. Marking too much will lessen the usefulness of the markings.
Be consistent. Don't use one color to mean something in one chapter and something else in another. Don't interchange your colors. I find it's best to use the same color for the same meaning throughout the Bible.
A Bible that you've marked in will become a journal of your walk with God, and can become a nice study Bible.
Experiment and develop a system that works best for you. Marking in your Bible will give you the pleasure of owning your very own personal study Bible.